Canned Fish Highest in Vitamin B12 (Cobalamin)
Powered by

USDA Nutrition Data

.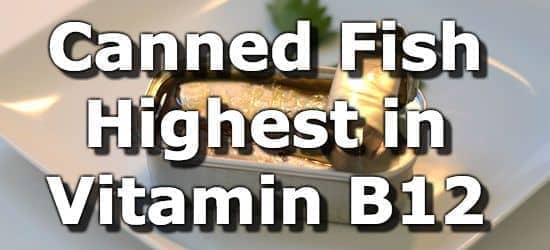 Vitamin B12, or Cobalamin, is an essential vitamin necessary for the maintenance of the nervous system and for preventing anemia. Fish is a good source of vitamin B12, but what about canned fish?
Canned fish can be a great source of vitamin B12. Canned foods are typically more affordable than fresh, with greater availability. The downside is that canned foods often have a lot of added sodium or are packed in less desirable oils. As such, try to choose canned fish without added salt and either packed in water or good quality olive oil.
Canned fish high in vitamin B12 includes canned oysters, clams, salmon, sardines, mackerel, crab, tuna, shrimp, cod, and anchovies. The values below are for a given serving size. Even if you don't eat such a large serving as 1 cup of fish, you can simply divide the numbers in half to get the amount for half a cup or about 4 ounces. The daily value (DV) for vitamin B12 is 2.4mcg per day, recently reduced from 6mcg as per the USDA food labeling standards.
Use the nutrient ranking tool to search for fish high in vitamin b12 by a standard serving size, like 100 grams or 200 calories. For different kinds of foods, see the article on foods high in vitamin B12.
Table of Canned Fish High in Vitamin B12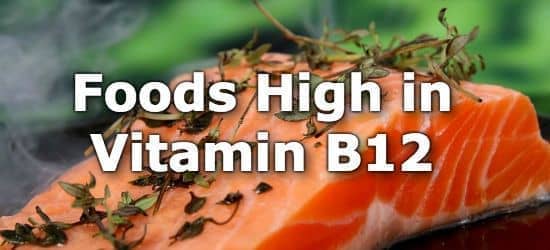 Next ➞
How much Vitamin B12 do you need?
The recommended daily allowance (RDA) for Vitamin B12 ranges from 0.4 to 2.8mcg per day. The daily value for vitamin B12 is 2.4mcg per day, which has been recently reduced from 6mcg per the USDA food labeling standards.
| | | | | |
| --- | --- | --- | --- | --- |
| Age | Male | Female | Pregnancy | Lactation |
| 0-6 months | 0.4 mcg | 0.4 mcg | | |
| 7-12 months | 0.5 mcg | 0.5 mcg | | |
| 1-3 years | 0.9 mcg | 0.9 mcg | | |
| 4-8 years | 1.2 mcg | 1.2 mcg | | |
| 9-13 years | 1.8 mcg | 1.8 mcg | | |
| 14+ years | 2.4 mcg | 2.4 mcg | 2.6 mcg | 2.8 mcg |
Source:
Office of Dietary Supplements
.
For the values above the amounts for children less than 12 months old is actually the adequate intake (AI) not RDA.
About the Data
Data for the curated food lists comes from the USDA Food Data Central Repository.
You can check our data against the USDA by clicking the (Source) link at the bottom of each food listing.
Note: When checking data please be sure the serving sizes are the same. In the rare case you find any difference, please contact us and we will fix it right away.
About Nutrient Targets
Setting targets can provide a guide to healthy eating.
Some of the most popular targets include:
Data Sources and References
MyFoodData provides free nutrition data tools and articles to help you organize and understand the foods you eat.

Create a free account to get nutrition facts on recipes and meals, track foods, and set custom targets.
feedback