Top 10 Foods Highest in Sugar (To Limit or Avoid)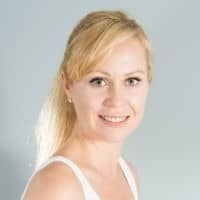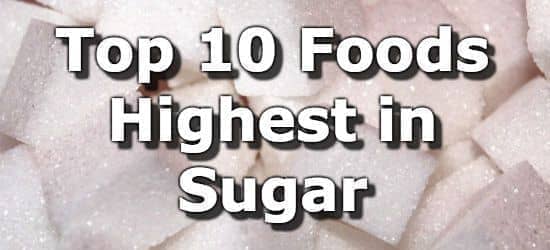 Sugars are simple carbohydrates naturally occurring in a variety of foods, including, fruits, vegetables, and milk. Sugar is also used as a food ingredient, added to processed foods for its sweet taste. It is these added sugars that cause health problems, not the sugars naturally occurring in foods.
Consumption of added sugar has increased rapidly over recent years and is believed to contribute to rising rates of obesity, type II diabetes, and heart disease.
High sugar foods to limit or avoid include puddings, milkshakes, ice-cream, fruit juices, sugary soda drinks, cakes (especially with frosting), candies, fruit yogurts, fast foods, cereal bars, and commercial cereals. In this list, both the grams of sugar and teaspoons of sugar is given. 1 teaspoon is equal to 4 grams of sugar.
For more information see the article of high carb foods to limit or avoid, or see the nutrient ranking of 200 foods high in sugar.
List of Foods High in Sugar

#1: Dulce De Leche
Up to 50% Sugar
| Sugar per Cup | Sugar per 100g |
| --- | --- |
| 151g (38 tsp) | 50g (12 tsp) |
More Desserts High in Sugar
67g per cup of tapioca pudding
43g per cup of rice pudding (arroz con leche)
30g per 1/2 cup of chocolate mousse

#2: Milkshakes (Blended with Candy)
Up to 24% Sugar
| Sugar per 12oz Cup | Sugar per 100g |
| --- | --- |
| 85g (21 tsp) | 24g (6 tsp) |
More Dairy High in Sugar
71g per 12oz McDonald's McFlurry with Oreos
58g in a medium ice-cream with chocolate topping
22g per 1/2cup of vanilla ice-cream

#3: Grape Juice
Up to 14% Sugar
| Sugar per 16oz Glass | Sugar per 100g |
| --- | --- |
| 72g (18 tsp) | 14g (3.6 tsp) |
Other Fruit Juices High in Sugar
63g per 16oz of Pomegranate Juice
62g per 16oz Naked Mighty Mango Juice
62g per 16 oz of Pineapple Juice
48g per 16oz of Apple Juice

#4: Sugary Drinks (Cream Soda)
Up to 13% Sugar
| Sugar per 16oz Bottle | Sugar per 100g |
| --- | --- |
| 66g (16 tsp) | 13g (3.3 tsp) |
Other Sodas and Drinks High in Sugar
55g per 16oz Kiwi-Strawberry Drink
52g per 16oz Root Beer
50g per 16oz Cola
44g per 16oz Sprite
43g per 16oz Ginger Ale
43g per 16oz Tonic Water

#5: Cake with Coconut Frosting
Up to 57% Sugar
| Sugar per Slice | Sugar per 100g |
| --- | --- |
| 64g (16 tsp) | 57g (14 tsp) |
Cakes, cookies, and pies can vary from 10-65g of sugar per serving, depending on how they are made, and how much sugar is added.

#6: Commercial Candies (Skittles)
Up to 76% Sugar
| Sugar per 2.1oz Bag | Sugar per 100g |
| --- | --- |
| 47g (12 tsp) | 76g (19 tsp) |
More Candies High in Sugar
50g in a small 3oz bar of white chocolate
33g per 2oz pack of Starburst sour fruit chews
32g per 2oz Baby Ruth bar

#7: Fortified Yogurt
Up to 19% Sugar
| Sugar per Cup | Sugar per 100g |
| --- | --- |
| 47g (12 tsp) | 19g (5 tsp) |
Plain yogurt contains 19g of sugar per cup.

#8: Fast Foods (Hot Cakes with Syrup)
Up to 21% Sugar
| Sugar per 3 Pancakes | Sugar per 100g |
| --- | --- |
| 45g (11 tsp) | 21g (5 tsp) |
More Fast Foods High in Sugar
23g per cup of coleslaw
17g per egg, cheese, and bacon griddle cake
14g per Burger King Double Whopper
See all fast foods high in sugar.

#9: Cereal Bars (Nutri-Grain)
Up to 34% Sugar
| Sugar per Bar | Sugar per 100g |
| --- | --- |
| 39g (10 tsp) | 34g (8 tsp) |
Note: There are some healthy cereal bars available if you check the ingredients and choose wisely. Look for bars made of whole grains such as oats, containing nuts, seeds, dried fruit, and without added sugar, sweeteners, or chemical additives.

#10: Ready to Eat Cereals (Familia)
Up to 23% Sugar
| Sugar per Cup | Sugar per 100g |
| --- | --- |
| 28g (7 tsp) | 23g (6 tsp) |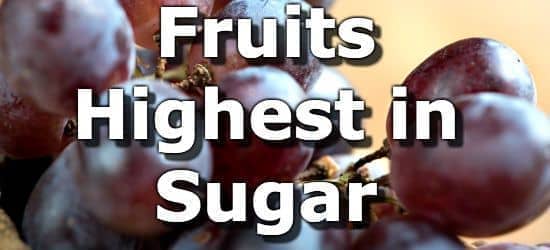 Next ➞
Printable One Page Sheet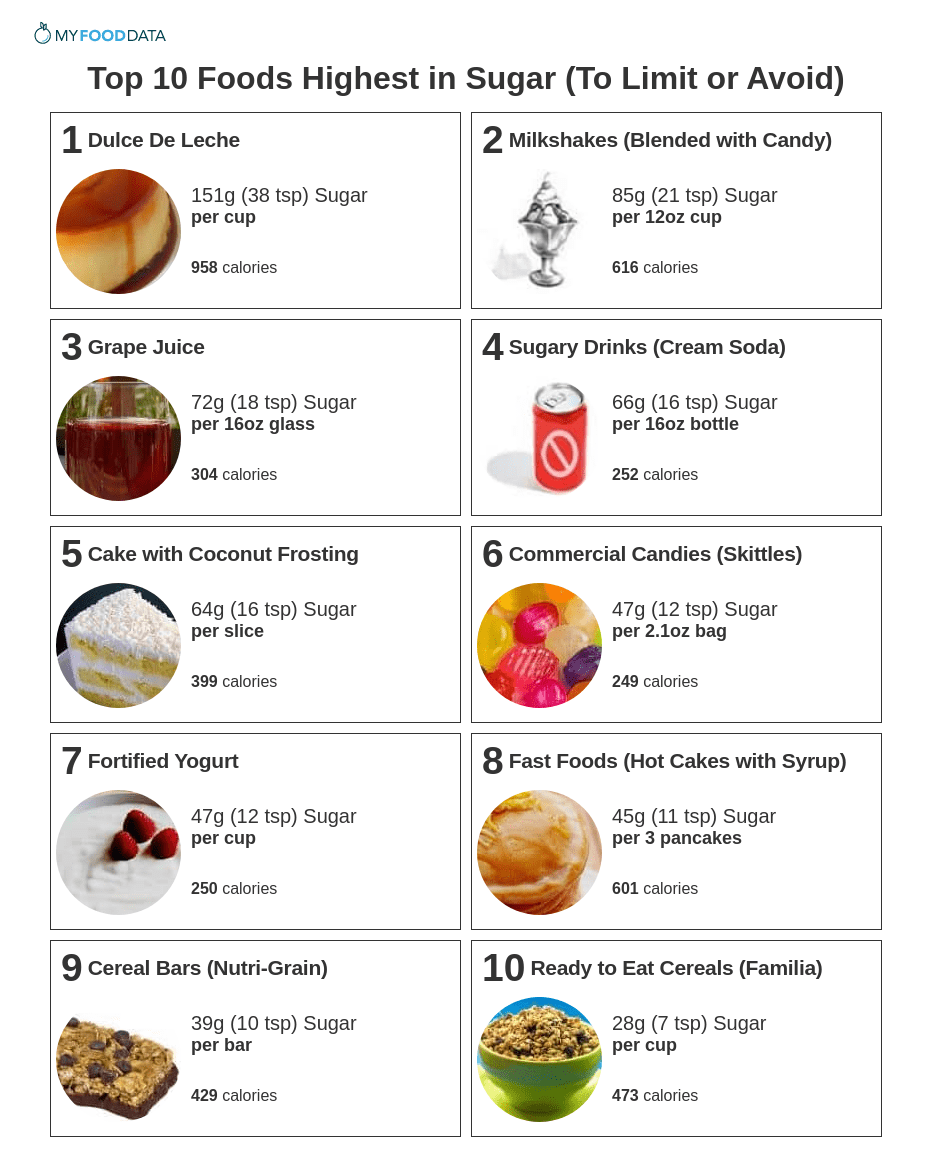 About the Data
Data for the curated food lists comes from the USDA Food Data Central Repository.
You can check our data against the USDA by clicking the (Source) link at the bottom of each food listing.
Note: When checking data please be sure the serving sizes are the same. In the rare case you find any difference, please contact us and we will fix it right away.
MyFoodData provides free nutrition data tools and articles to help you organize and understand the foods you eat.

Create a free account to get nutrition facts on recipes and meals, track foods, and set custom targets.
feedback
Data Sources and References